5 voľne dostupných online nástrojov, ktoré vám pomôžu s analýzou trhu zadarmo
Každej akcii by mal predchádzať plán. Pred tým ako začnete podnikať, vymyslíte nový produkt, alebo založíte novú firmu, mali by ste mať dobre premyslenú stratégiu, aký účel má plniť vaša aktivita a ako chcete vašu snahu monetizovať. Nie je nič horšie ako sa bezhlavo a bez premyslenia pustiť do podnikania a po nejakom čase zistiť, že sa to dalo všetko robiť úplne inak, efektívnejšie a hlavne oveľa lacnejšie.
Ak chcete robiť kvalitné firemné rozhodnutia musíte poznať váš trh. Získavanie informácií a ich následná analýza sú nevyhnutnými krokmi k dobrým rozhodnutiam, z ktorých bude vaša firma v budúcnosti profitovať. V online prostredí je to o to jednoduchšie, že väčšina kvalitných trhových a firemných informácií je voľne dostupná a zadarmo. Ak viete kde hľadať, môžete získať veľa zaujímavých informácií o vašej konkurencii alebo o cieľovej skupine. Informácie sú iba pár klikov od vás.
Predtým ako začne vaše vyhľadávanie a analýza, premyslite si akú funkciu má plniť vaša online aktivita a z akého dôvodu chcete byť online. Ak máte jasnú predstavu o tom, kam sa chcete dostať, vyhľadávanie informácií bude o to jednoduchšie, pretože viete čo hľadáte. Najťažšie je hľadať a nevedieť čo.
Google vyhľadávanie
Google.com je vyhľadávač webstránok a momentálne najnavštevovanejšia webstránka na svete. Je to niečo ako telefónny zoznam všetkých webstránok na svete. Ak niečo hľadáte, opýtajte sa a ujo Google vám ponúkne zoznam stránok kde požadované informácie nájdete. Vaše vyhľadávanie informácií by sa malo začať práve tu.
Dajte si do Google frázu spojenú s vašou firmou alebo produktom, podľa ktorej si myslíte, že vás vaši potenciálni zákazníci budú vyhľadávať a preklikajte si výsledky, ktoré vám Google ponúkne. Získate tak prehľad o konkurenčných firmách alebo produktoch, ktoré sú viditeľné pre online zákazníkov a budú tvoriť vašu online konkurenciu.
Nie vždy je pravidlom, že firmy s veľkým trhovým podielom v offline svete sú lídrami aj na internete. Napríklad pri kúpe nového vysávača by ste osobne pravdepodobne zamierili do NAY elektrodomu alebo DATARTu. Na internete sú veľkými hráčmi naopak Alza.sk a Mall.sk.
Pri Google výsledkoch vyhľadávania je taktiež užitočné pozrieť si množstvo výsledkov vyhľadávania, ktoré Google nájde na danú frázu. Čím je toto číslo vyššie, tým populárnejšia je téma, čo znamená zvýšený záujem u ľudí a pravdepodobne aj vyššiu konkurenciu.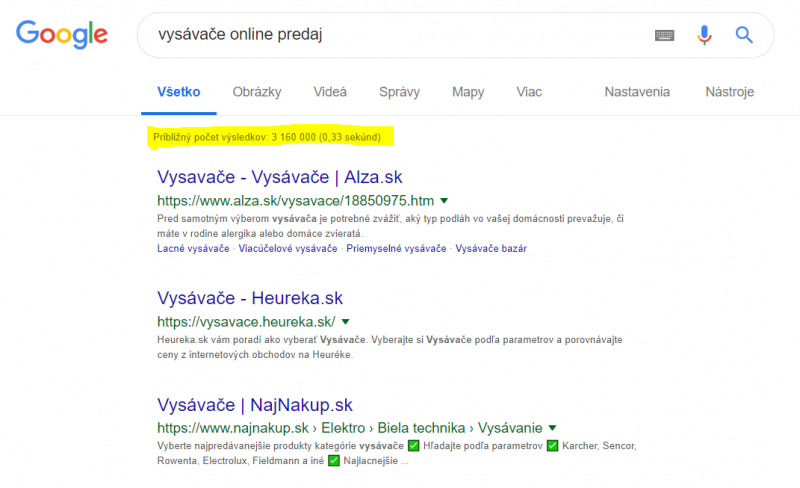 SimilarWeb
SimilarWeb je online služba, ktorá zadarmo poskytuje základné informácie o návštevnosti stránok. Na meranie návštevnosti používa rôzne panelové dáta a keďže SimilarWeb nemá priamy prístup k webstránkam, nemá možnosť presne určiť ani ich návštevnosť. Návštevnosť reportovaná službou SimilarWeb je preto iba odhadovaná a nie je úplne presná.
SimilarWeb je však pomerne dobrý v identifikovaní trendov. Možno chlapci zo SimilarWebu nevedia úplne presne trafiť počet návštev webu, ale vedia určiť či má návštevnosť klesajúci alebo stúpajúci charaketer. Čím je stránka väčšia a má vyšší počet návštev, tým vie byť SimilarWeb presnejší. Pre stránky z nízkou návštevnosťou pod 1000 návštev mesačne väčšinou neukazuje žiadne dáta.
Napríklad pri jednej konkrétnej slovenskej webstránke ukazuje SimilarWeb návštevnosť 23 894 návštev za uplynulý mesiac. Google Analytics tej istej stránky uvádzajú za to isté časové obdobie 24 193 návštev. Niekedy vie byť SimilarWeb až pozoruhodne presný.


Ak plánujete často analyzovať webstránky pomocou služby SimilarWeb, potom vám odporúčam nainštalovať si SimilarWeb Chrome Extension do vášho Google Chrome browseru. Extension si môžete stiahnuť cez tento link.
Pomocou extension si viete rýchlo a jednoducho zistiť informácie o stránke bez toho, aby ste z danej stránky odišli. Ak má stránka dostatočne veľa návštev, SimilarWeb vám poskytne informácie o návštevnosti stránky, o tom ako sa užívatelia najčastejšie dostanú na stránku, z akých krajín pochádza návštevnosť, cez aké kľúčové slová sa najčastejšie dostávajú na stránku a aké sociálne siete stránka využíva. Taktiež si viete pozrieť aké sú jej konkurenčné stránky.
SimilarWeb je kľúčovým nástrojom pre analýzu trhu a konkurencie. Základné informácie ponúka zadarmo. Ak však chcete ísť s vašou analýzou viac do hĺbky a vidieť viac výsledkov, potom si musíte predplatiť prémiové balíky SimilarWeb, ktoré sa hýbu mesačne od 199 USD až po 799 USD.
Google plánovač kľúčových slov
Plánovač kľúčových slov alebo Keyword planner je funkcia služby Google Ads, ktorá je zadarmo. K používaniu plánovača kľúčových slov je ale potrebné mať založené konto na Google Ads. Konto však nemusí byť aktívne. Stačí ak si ho založíte pomocou gmail adresy a automaticky získate prístup aj k plánovaču. Pri vstupe do Google Ads ho nájdete v sekcii Nástroje a Plánovanie (Tools and Planning).
Plánovač kľúčových slov je okrem iného fantastický nástroj na historické sledovanie počtu vyhľadávaní jednotlivých slov alebo fráz v organickom Google vyhľadávaní. Nástroj vám zobrazí počet vyhľadávaných slov alebo fráz po mesiacoch až rok dozadu. Získate tak prehľad o možnom dopyte po vašich produktoch alebo službách. Ak sa chystáte spustiť na trh nový produkt alebo rozmýšlate o novej firme, plánovač slov vám poskytne pomerne dobrý prehľad o tom, koľko ľudí vyhľadávalo slová spojené práve s vaším produktom alebo službou. Získate tak dôležité informácie o veľkosti potenciálnej cieľovej skupiny a možnej sezónnosti pre váš produkt alebo službu. Ak si zoberiete priemernú konverziu na internete 2,5% a vydelíte si ňou počet vyhľadávaní, ktoré vám ponúkol plánovač slov, dostanete číslo, ktoré symbolizuje strop vašich možných predajov na danom online trhu.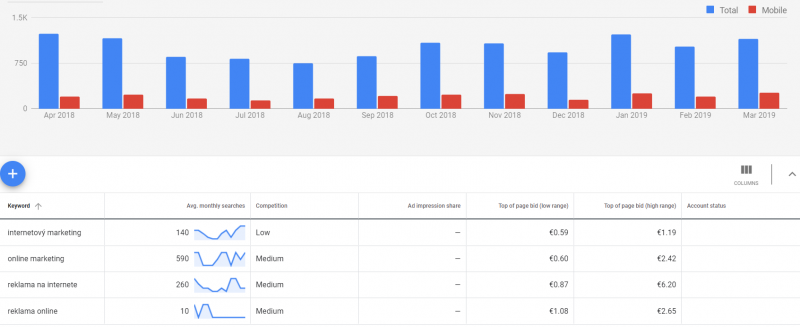 Plánovač slov okrem iného ponúka aj možnosť vyhľadania príbuzných kľúčových slov, ktoré môžu byť nápomocné ak hľadáte nápady čo všetko môžu vaši potenciálni klienti zadávať do Google keď hľadajú práve váš produkt alebo službu.

Google Analytics
Google Analytics je najpoužívanejším analytickým nástrojom webstránok na internete. Odhaduje sa, že ho využíva každá druhá webstránka. Za svoju popularitu vďačí Google Analytics nielen svojej finančnej nenáročnosti (je zadarmo) ale najmä svojej funkcionalite a veľkému počtu reportov, ktoré dokáže generovať. Google Analytics vie merať nielen návštevy na webe, ale aj správanie užívateľov a ich demografické údaje, vie vám povedať veľa o konvertujúcich užívateľoch a hlavne kto odkiaľ prišiel a či u vás našiel to, čo hľadal. Šikovný analytik vie z čísiel, ktoré ponúka Google Analytics zistiť čo vašej stránke chýba, v čom naopak vyniká a kam sa oplatí investovať na zvýšenie predaja.
Akýkoľvek analytický nástroj je úplný základ pre každú webstránku. Ak však nemáte multimiliónový online business a celý zástup online špecialistov, ktorý potrebujú zbierať komplexné dáta o vašich užívateľoch, potom vám bude k vášmu online fungovaniu úplne stačiť práve Google Analytics.
Pri plánovaní novej stratégie už existujúcej webstránky je vždy dobré analyzovať dovtedy zaznamenané dáta. Aký je váš konverzný pomer? Ktorý kanál prináša na váš web najhodnotnejšiu návštevnosť? Aký je pomer návštevnosti pre jednotlivé kanály a ako ste na tom pri organickom vyhľadávaní? Ako vyzerá cesta ku konverzii vašich užívateľov? Kto sú vaši užívatelia a kedy a z akých zariadení vás navštevujú? Na tieto a podobné otázky by ste mali nájsť odpovede práve vo vašom analytickom nástroji pred tým, ako začnete plánovať vašu novú stratégiu.
Facebook štatistiky
Tak ako pozná Google odpoveď na všetky naše otázky, tak isto vie Facebook všetko o svojich užívateľoch. Facebook vie nielen koľko má kto rokov a kde býva, ale vie aj aká je vaša obľúbená kniha, čo radi robíte vo voľnom čase a aké zrno má rada vaša andulka. Preto, ak hľadáte informácie o vašej cieľovej skupine, opýtajte sa ne priamo kráľa všetkých zberateľov osobných informácií, Facebooku.
Prístup k informáciám o užívateľoch Facebooku nájdete vo Facebook štatistikách publika. Na prístup potrebujete mať iba vytvorený osobný profil na Facebooku. V štatistikách publika (Audience insights) si viete podľa lokácie, záujmov a iných demografických údajov vyfiltrovať danú cieľovku a dozvedieť sa o nej viac. Napríklad, ak chcem ísť predávať autá značky BMW na Slovensku, viem, že moja cieľovka budú najmä muži vo veku 18 – 44 rokov, slobodní alebo v stave manželskom a budú mať okrem iného radi Jägermeister.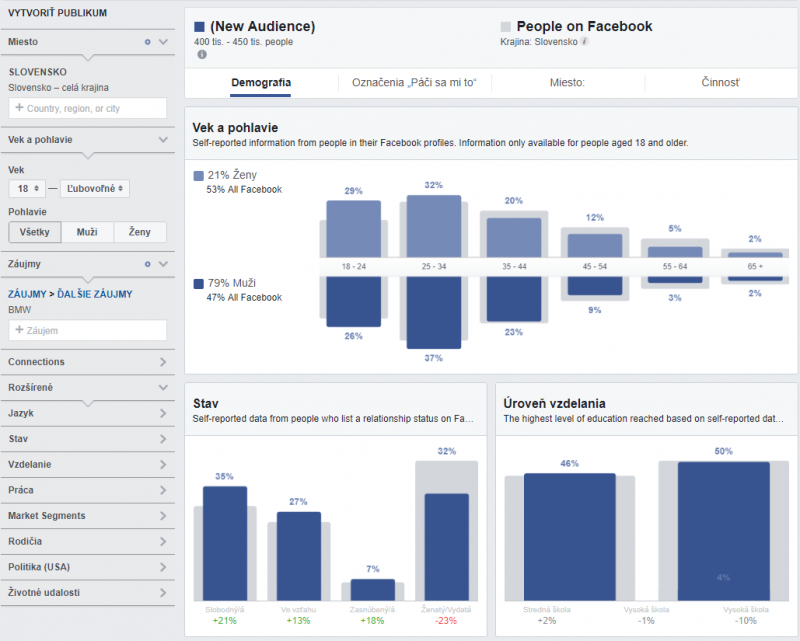 Slovo na záver
Pri plánovaní určite využite čo najviac dostupných zdrojov informácií. Nástrojov, ktoré ponúkajú online dáta a analýzy je na internete naozaj neúrekom. Existuje veľa platených nástrojov, ktoré svojím užívateľom vedia častokrát ponúknuť viac ako tie, ktoré sú voľne dostupné a zadarmo. Na základnú analýzu pre väčšinu menších a stredných businessov však úplne stačia vyššie spomenuté nástroje v tomto článku.
Dôležité je však informácie nielen vedieť zbierať ale im aj následne porozumieť a vedieť ich aplikovať. Čím kvalitnejšími informáciami budete disponovať, tým viac porozumiete vašim zákazníkom a o to lepšie budete váš produkt alebo službu vedieť predať. Určite však pritom netreba zabúdať na morálnu zodpovednosť každého marketéra a informácie o užívateľoch zbierať a uchovávať legálne a eticky.